With friends in high places, all charges against super-privileged half-Jew, half black, and all gay Jussie Smollett are dropped....outside of a $10,000 'plea bargain" slap on the wrist.
Now, Smollett is back to pleading he is still a victim of a racial lynching. Not one bit of confession to his crimes.
So, we are led to believe, the "real" criminals are still out there. I hope Chicago's finest never stop until the 'real" perpetrators of this heinous act are brought to justice.
Any two white guys would suffice. Keep us updated on your investigation CPD.
Perhaps the disgraced FBI will disgrace itself once again by not investigating the terrorist white substance mailed through the postal service. a federal crime. Or they will investigate and find the two "white guys." Who knows anything anymore?
One thing is for sure, the anti-hate legislation Jussie Smollett was depending upon in his scam, was itself created from a scam. Matthew Shepard's murder was over drugs, not his homosexual behavior. Jewish Mayor of Chicago Rahm Emanuel was correct to point out how this creates disbelief in hate crime allegations. Perhaps Jews need to learn this lesson as well.
HOW DARE HIM ! - Rahm Emanuel.
HOW DARE THEM ALL USING A FRADULANT MATHEW SHEPARD HATE LAW TO GET A FRAUDULENT ANTI_LYNCING LAW!!!!
---
Here is what we believe happened.

---
US Senators Cory Booker and Kamala Harris were about to be implicated by Jussie in their lynching hoax, which was intended to gin up support for their anti-Lynching legislation. In the hoax, Jussie was to provide an up-to-the-minute outrage that lynching still occurs in our society, not just to black men but to gays as well.
This outrage would lead to passage of the lynching legislation.
Passage of the lynching legislation would insure Cory and Kamala's name in the history books. And help burnish their aspirations on their presidential election runs.
So Cook County State's Attorney Kim Foxx was either heavily bribed or severely coerced to drop all 16 felony charges against Smollett, saving Cory Booker and Kamala Harris the embarrassment of having their names being dragged through a nationally broadcast black-on-white hate trial.
But no Smollett. How do you get away with this? You continue to impung my character as a white man, depicting me of capable of lynching, out of nothing more than cold-blooded hatred in today's America, and you have deprived me of my right in a court of law to defend my innocence from your slanderous Jewish comments about my character.
From
our original story
...
---
Whoever CONSPIRES...

---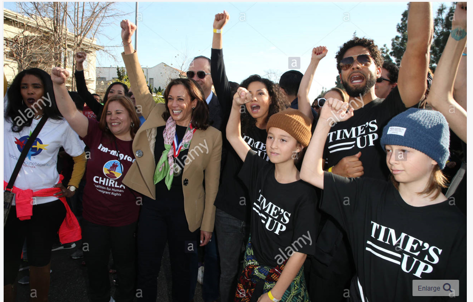 Los Angeles, Ca, USA 15th Jan. 2018 U.S. Senator Kamala Harris, Jussie Smollett, Jumee Smollett-Bell, at the 2018 Kingdom Day Parade in honoring the life and legacy of Dr. Martin Luther King, Jr. at Balwin Hills in Los Angeles, California on January 15, 2018. Credit: Faye Sadou/Media Punch/Almy Live News - Image ID: KYP53W

Conspiracy #1: January 15, 2018
U.S. Senator Kamala Harris and half-Jewish Empire star Jussie Smollett are tight on MLK Day
(see pic above)

Conspiracy #2: December 19, 2018
U.S. Kamala Harris introduced anti-lynching bill passes in the Senate. The House fails to act. The bill dies. (Drats! Need more drama. More racism. Need Judeo-MSM screaming their lids off about racism and the need for this law. i.e. need to conspire together with the Judeo-MSM and Judeo-Hollywood.)

Conspiracy #3: January 27, 2019
Kamala Harris announces bid to run against President Trump

Conspiracy #4: January 29, 2019
Jussie Smollett is symbolically lynched
(What side was lynched? His Black side or his Jewish side?)
(But nevertheless - Holy Cow! just in time!!! A racist lynching!! God bless my luck!!!)
(Guess next week Jussie would have reported someone trying to push him into an oven)

Conspiracy #5: February 14, 2018

An anti-lynching bill had been reintroduced by Kamala Harris and again passed in the Senate

Conspiracy #6: February 14, 2018 (3:40 PM)

Two persons of interest had home raided in the Jussie Smollett case.

Drats!!!! The perps were not Trump MAGA supporters!!

Double drats !!! The perps were not whites!!!
Triple Drats!!!! The perps weren't even Americans. They were Nigerians!!!

Drats Drats Drats!!! I'm caught red handed!!!