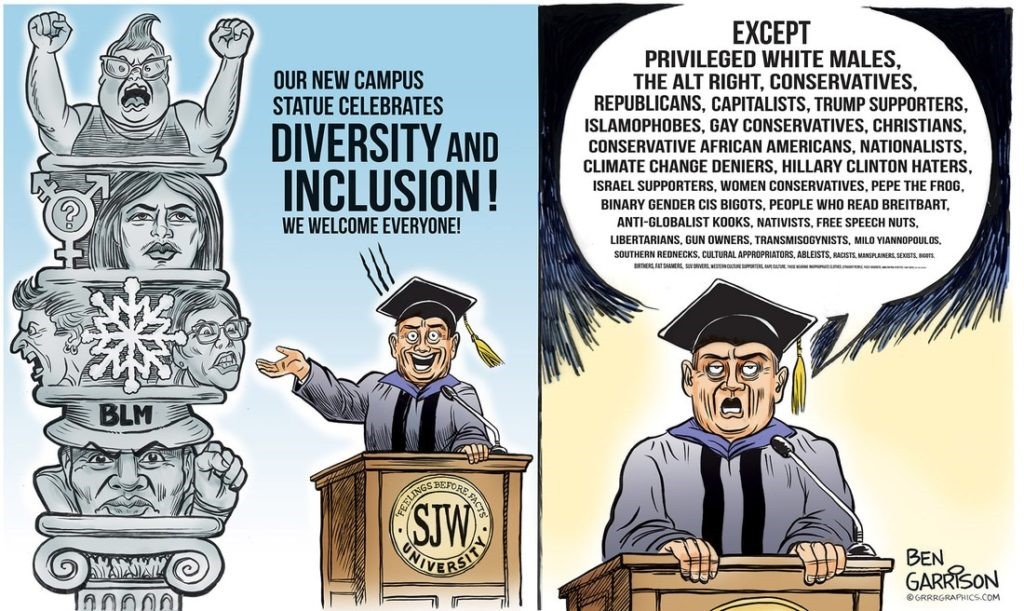 I have a Dream...about Gay Wedding Cakes
Ann Coulter June 6, 2018

Midway through the last century, bedrock legal principles about property rights and freedom of association were abrogated to deal with a specific, intractable problem: We could not get Democrats to stop discriminating against blacks.
So Republicans, with very little Democratic help, passed a slew of laws saying: No, even though you own that restaurant, you cannot discriminate against black customers. And no, even though we are a free people, you cannot refuse to associate with black people in your clubs, universities or sports teams.
This should have been a one-time exception to the law for one specific group of people based on an emergency.
But Democrats, never wild about freedom in the first place, saw "civil rights" as a great gig. Instead of civil rights being used to remedy historic injuries done to a specific group of people, they'd use "civil rights" as a false flag for all their pet projects.
Not that I often disagree with the wisdom of Ann Coulter, but I believe Republicans were focused on "Government" discrimination by Democrats, not "Individual" freedom of association by Democrats.
By the time of Democrat JFK and Democrat LBJ, with a Democratic Congress, the Democrats had high-jacked the civil rights movement and they are the ones who then AGAIN sicked government onto the backs of private citizen restaurant owners and private owners of clubs and sport teams. (Universities were mostly State government insitutions, and so should not be linked into private citizen pursuit of happiness)
Democrats just like to tell private citizens what to do with their lives.
Democrats just love to be dictatorial Totalitarians.
---
The move from
laws forcing separation
to
laws to forcing togetherness
---
Up until the 1950s, States led by Democrats had government laws which said you were not allowed to mix with people with whom you do not like to mix.
Really, think about that... There even had to be a law for that? In general, my government told me I had to stay away from people I did not want to be with in the first place. OK, not much of a problem for most.
The real reason the law was created is because there were some whites and some blacks who actually wanted to associate with each other and Democrat-led cities and states would not allow that freedom of association.
The laws were created because there were some businessmen who wanted to serve people of a different color and Democrat-led politicians would not allow free trade in America.
And here is the real news guys. If your businessman boss is forced by government to adhere to their dictates, then you, as his employee, are also dictated to by the same government through your boss.
Today, States AGAIN LED BY DEMOCRATS have laws stating that you are forced to mix with people you do not like.
Not OK. In fact, believe it or not, a much bigger problem!!!
Yes, Ann is Right. Republicans started this, but the goal was to stop State governments ran by Democrats from interfering with freedom of association and property rights of citizens, including black citizens.
But evil Democrats flipped this idea completely on its head.
Following the 1950s, the Supreme Court rightfully said that Democrat-led States could not have laws separating (segregating) blacks and whites.
Then the federal government ran by a Democrat Congress went too far.
This time, government ran by Democrats were telling individual property owners they are required to discriminate against their own kind and thus are required to employ those with whom they did not wish to associate in any other part of their life; required to serve those whom you did not want to invite into your establishment.
One way or the other, Democrats love government telling us how to live our lives.
Fast forward to today.
Not just a black and white issue anymore.
It no longer stops with a previously enslaved population.
Democrat government is now big time into segregation laws on everything!!! As the cartoon above depicts.
If I bake a cake, I may choose to bake cakes for people I do not like because I enjoy making a living, but also I reserve the right to not bake a cake as well if a personal line of morality is crossed which I personally don't want to cross.
This is called Freedom of Association. One of several freedoms fundamental to this country.
In the case of Masterpiece baker Jack Phllips, he did not even have the freedom of religion to have the freedom to associate only with others of his Christian religion in his own business.
Jack Philips in other words had no freedom whatsoever and worst, would have become a slave to gay couples. And his employees are slaves to gay couples.
Yesterday, most believed homosexuality to be a degenerate lifestyle; today not a single person is allowed to believe homosexuality is immoral.
We are all slaves to the gay agenda!!!
Tomorrow, one may be the one in prison for refusing service to a child molester or a MS-13 gang member, instead of the child molester or MS-13 gang member being in prison.
Up until a year ago, the left was OK with Jewish movie maker Roman Polanski raping an underaged girl, one of the most heinous crime imaginable in past times. Today, average men are being ruined for innocently flirting with a grown woman one millisecond after she said no, on the premise that women are a "protected minority".
But freedom of association is taking even bigger hits now.
Big government came along and said under no circumstances could I refuse to bake a cake for anyone I don't like.
In fact, the Supreme Court took up this question Jack Philips appealed and ruled on two flimsy findings
The government official openly stated his hatred of Christianity
The same government officials involved refused to force, in another case, the baking of a cake in favor of Christianity
So this narrow decision revolved around flimsy legal rulings, not the rock solid Constitutional rights of property (pursuit of happiness) and right of association and freedom of religion.
Scary!!!!
Had the government not openly said they were hostile to Christianity, and had they not been inconsistent towards Christians, then it is very likely the Supreme Court could have said government COULD force private citizens to associate in whatever manner the government wants us to associate regardless of their own personal morality and religion.
Government could say parents are not entitled to keep their children. After all, most kids are the same race as their parents and does this not make families the ultimate example of e-v-i-l segregation in need of a quick government fix?
Yesterday Democrats locked you up in prison for baking a cake for a black couple, now Democrats want to lock you up for NOT baking a cake for a homosexual couple.
And of course, Totalitarian Jews run the Democrat Party, as they also mostly run the Republican Party of RINOs.

Ann Coulter - June 6, 2018

The Supreme Court's recent decision on whether a Christian baker can be forced to make a wedding cake for a gay marriage (no) arriving on the same day that Bill Clinton reared his syphilitic head on NBC's "Today" reminded me how liberals always use black people as props.

Midway through the last century, bedrock legal principles about property rights and freedom of association were abrogated to deal with a specific, intractable problem: We could not get Democrats to stop discriminating against blacks.

So Republicans, with very little Democratic help, passed a slew of laws saying: No, even though you own that restaurant, you cannot discriminate against black customers. And no, even though we are a free people, you cannot refuse to associate with black people in your clubs, universities or sports teams.

This should have been a one-time exception to the law for one specific group of people based on an emergency.

But Democrats, never wild about freedom in the first place, saw "civil rights" as a great gig. Instead of civil rights being used to remedy historic injuries done to a specific group of people, they'd use "civil rights" as a false flag for all their pet projects.

Just six years after passage of the historic 1964 Civil Rights Act, Democrats in New York had dropped black people from the equation and moved onto legalized abortion. State senator Manfred Ohrenstein of Manhattan explained why killing the unborn was a "right": "It was the end of the civil rights era, and we viewed [abortion] as a civil right."

In the 1991 case Kreimer v. Morristown, a Carter-appointed federal district judge, H. Lee Sarokin, ruled that a public library's discrimination against smelly, frightening homeless people violated the equal protection clause because it had a "disparate impact" on people who refuse to bathe compared to those who bathe regularly. Three years later, President Clinton promoted him to an appellate judgeship. (The judge, not the homeless person.)

In 2007, then-governor Eliot Spitzer vowed that "New York state will continue to be a beacon of civil rights" -- when proposing a state law that would guarantee access to late-term abortions.

In June 2012, The New York Times chirpily reported "gay rights the fastest-moving civil rights movement in our nation's history"!

These days, you could be forgiven for not realizing that civil rights ever had anything to do with black people. According to Equal Opportunity Employment Commission statistics, for a least a decade, 65 percent of all "civil rights" claims have had absolutely nothing to do with race discrimination.

The gay wedding cake caper is only the most recent example of our majestic "civil rights."

Instead of basing favored treatment under the law on a history of brutal and widespread injustice in America, liberals thought it should also be based on other forms of suffering, such as: being a woman, being a Muslim, wanting an abortion, having been born in Mexico, being a smelly homeless person stinking up the public library and -- according to Ruth Bader Ginsburg this week -- being a gay couple who wants to force a Christian to bake a cake for your wedding.

It must make blacks feel great being compared to daft women, smelly homeless people and bossy gays harassing a Christian baker.

And apes!

Princeton ethics professor Peter Singer compares black people to apes, citing the black liberation movement as a model for the liberation of apes. We must "extend to other species," Singer says, "the basic principle of equality" that we extend "to all members of our own species."

This wasn't an Ambien-induced Twitter rant by a comedian. Singer wrote it, calmly and deliberately, in a book on "ethics."

Still, I believe the greatest insult black Americans have had to endure from liberals was when they called Bill Clinton the "first black president."

I notice that he was not the first black president when Democrats were singing Fleetwood Mac at his inauguration, nor when he was appointing the first woman attorney general or passing welfare reform. Only after Clinton was caught in the most humiliating sex scandal in U.S. history did he suddenly become "the first black president." (Which is not true, according to Monica Lewinsky's description of Clinton's private parts.)

During the House impeachment hearings, Rep. Maxine Waters ferociously defended Clinton, saying, "I am here in the name of my slave ancestors." She said she had woken up in the middle of the night, "with flashes of the struggles of my African ancestors for justice."

What this had to do with Clinton perjuring himself about molesting a chubby Jewish White House intern was anyone's guess.

Always the master of subtlety, as soon as the Lewinsky scandal broke, Clinton promptly invited the Rev. Jesse Jackson to the White House to "pray" with him. Two months later, he took off on an 11-day, six-nation $43 million trip to -- guess where? Africa!

Haven't black people suffered enough without this horny hick piggybacking on their oppression?

COPYRIGHT 2018 ANN COULTER
DISTRIBUTED BY ANDREWS MCMEEL SYNDICATION