Huffington Post HEADLINE:
Except the cat is now out of the bag Huffington Post.
The guy with the two finger salute caught on camera is openly saying he is Jewish and has even been to Israel TWO times. Why that all but makes him an official Israeli Jew, right?
True News, should the Huffington Post care anymore, is for the Huffington Post to properly report the fact that lawyer Aaron Schlossberg is a "Racist White JEWISH Dude".
Not just a Racist...
Not just White...
Not just a Man (dude)...
Certainly NOT a Christian...
But also Jewish!!!
The one finger salute is also Jew Schlossberg.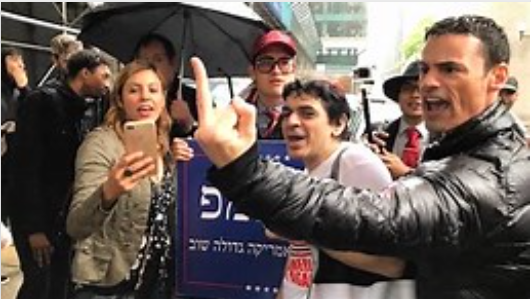 In fact, the Huffington Post doubled down on their false narrative the very next day on May 17th.
The next day the Huuffington Post added to their vaunted reporting, after hours of journalistic interrogation of all the facts don't you know, that Aaron Schlossberg was...
...wait for it...
...wait for it...
....wait for it...
...a right-wing pro-Trump supporter.
Lawyer Who Ranted Against Spanish-Speakers Faces Office Eviction, Disciplinary Complaint
Lawyer Aaron Schlossberg is facing serious consequences after video footage captured his bigoted diatribe about workers and customers who were speaking Spanish to each other in a Manhattan restaurant on Tuesday.
Since the video of his outburst went viral,

the Trump supporter

has been evicted from his law offices, named in a disciplinary complaint and chased by reporters.
---
KOHI
Kosher Outside, Halal Inside

---
This hateful Jewish White man also racially rants against fellow Jews calling them the Jewish equivalent of OREOS - "Black on the outside White on the inside".
Or in this case, perhaps KOHI ? - "Kosher on the outside, Halal on the inside".
In two videos I am publishing in full here for the first time, the man can be seen

telling me that he's been to Israel twice and is Jewish himself,

all the while insisting Feldman, the well-known Haredi Jewish leader, was faking it. In a second video, he is again seen giving the group of Jews the middle finger, this time dancing and shaking his backside at them.
Jews are pro-Muslim, EXCEPT when it comes to Israel.
This Jewish Rabbi was getting the finger from nasty Jew Aaron Schlossberg because he just went too far.
Had the Jewish Rabbi been protesting in favor of more Muslim immigration into Christian civilizations, then Aaron Schlossberg would have walked right past the protest, most likely giving them a thumbs up.
But this Jewish Rabbi was protesting in favor of Palestinians being persecuted by Jewish Israel and Aaron Schlossberg was not going to put up with that much political correctness.
---
Israel
The Ultimate Political Correctness

---
The pinnacle of Political Correctness is being pro-Israel and this Huffington Post article is the perfect example of their adherence to that principle.
The Huffington Post has identified all the characteristics about Aaron Schlossberg they consider hateful; that he is A) male, B) white, C) anti-Hispanic, D) anti-immigration, E) anti-Jewish; all the while hiding the one characteristic they refuse to identify, the fact that he is F) a Jew.
And they clearly knew this.
OK, Jews can be racist like the rest of us, but why would the Huffington Post put such a hostile and provocatively titled article invoking the image of peaceful and loving White "GAY" Men alongside hateful White "JEWISH" Men? Both being White and men.
That's my politically correct response to the sins of The Huffington Post.
The real political agenda of the Huffy Post is to propagandize that this hateful Jewish lawyer is actually the public face of your typical American White "CHRISTIAN" Man.
And that is what makes the Huffy Post no better than Goebbels or Stalin.
The Huffy Post is race baiting and leading this country into war.
How many reader's first thoughts to the Huffy Post slime were,
"There you go, another Jew full of HATE!!!"
Hard to do when Aaron Schlossberg never identified in the Huffington Post as a Jew.
Jews are mostly identified picking up Nobel prizes don't you know.
But he was CLEARLY identified as WHITE and a DUDE. The Huffy Post audience desperately needed to know those facts of the case. The fact that he was Jewish, naw, not so important.
---
HP not along
All the MSM are the same
Jewish version of Goebbels

---
Alternet.org reports:
Here Are the 5 Most Outrageous Right-Wing Moments This Week
All of America now knows the name Aaron Schlossberg after the lawyer went on a racist rant in a New York City cafe that found the internet providing numerous examples of a years-long tirade against immigrants.
Soon enough, his
hatred of
Spanish speakers and
Jews
reached the security team of his office, which told the media he was immediately banned from the premises.
He's a Jew you twits!!!
This is no example of a KKK, White Supremacist American right winger .
This is an example of a "God's Chosen People" Supremacist Zionist right-winger.
Fox News reports
NYC lawyer Aaron Schlossberg, under fire for racially-charged rant, facing legal complaints
The New York City lawyer caught on video this week launching a racially-charged tirade against Spanish-speaking restaurant workers
NYC lawyer, not NYC Jewish lawyer? Come-on Fox, are you on our side?...oh vey, your owner is also Jewish????
The Forward reports
Aaron Schlossberg Condemned By Fellow Lawyers — Slammed By 25,000 On Petition
The Manhattan lawyer caught yelling racist comments at Spanish-speaking restaurant workers in a viral video was treated harshly by fellow attorneys at a Queens court Thursday, lawyers there told The New York Post.
You would think that an openly Jewish news site should be reporting what one of their own is doing to make Jews look bad. But no worries if no one knows he's Jewish, right?
Newsweek reports
Could Racist Rant Lawyer Lose Legal License?
Since Schlossberg was identified after the video went viral, others have come forward with more examples of the lawyer being xenophobic in public.
In 2015, he reportedly attended a protest against Linda Sarsour, an American Muslim activist. Far-right provocateur Milo Yiannopoulos and anti-Islam activist Pamela Geller were also present, CNN reported.
Issac Saul, A Plus editor, saw Schlossberg at the protest, near his office in Midtown Manhattan. There were also Haredi Jews present supporting Sarsour and counter protesting, and Schlossberg confronted them, Saul said. In a video of the incident, Schlossberg can be seen berating them while making insulting gestures.
"You are not a Jew," Schlossberg yelled.
"Yeah, I'm Jewish. I've been to Israel twice."
Amazing, Newsweek did respectable reporting "almost" right. The very last line, for readers who lasted that long (or the bottom line should we say), Newsweek finally reports that Aaron Schlossberg was Jewish.
No, Newsweek did NOT actually report Aaron Schlossberg was Jewish. All Newsweek did was report what Aaron Schlossberg said, and that so happens to be him saying he was Jewish.
Newsweek's reporting is a chickens cowardly approach to reporting on America's Jewish royalty.
When I first saw the viral video of a man berating people for speaking Spanish in Manhattan, I was shocked.
It was surprising enough that someone was upset that they had heard Spanish in New York City, which is spoken almost everywhere, but it was shocking because I recognized the man in the video. I had encountered him myself, in a similarly tense moment, a year before.
My encounter with the man happened at an anti-Linda Sarsour rally on May 25, 2017. I reported on the rally for A Plus.
Sarsour was expected to deliver a commencement speech at City University of New York's Graduate School of Public Health and Health Policy, and protesters had gathered on the street outside of my office building to object. Milo Yiannopoulos, Pamela Geller, and a host of other far-right conservative provocateurs were there.
Among the group of protesters at that rally was the same man filmed berating two women for speaking Spanish inside a New York City Fresh Kitchen this week. The man has since been identified as midtown attorney Aaron Schlossberg by activist and journalist Shaun King. (A Plus has not yet independently confirmed the man's name.)
As Geller and Yiannopoulos' speeches came to a close, the man wandered over to the opposite side of the street, where he and a few other people wearing Trump campaign apparel spotted Haredi Jews who were also there on the behalf of Neturei Karta International, and had come out to counter-protest in support of Palestine.
One of their lead rabbis, Dovid Feldman told me that he was there to defend Sarsour — who he said he knew — and spread his message of support for Palestine. But shortly after our interview began, he was interrupted by this man, who came over and berated him and a few other individuals who were with him. The man, who King identified as Schlossberg, insisted that Feldman was a "fake Jew," inciting chants of "fake Jews" over and over again while giving them the middle finger.
In two videos I am publishing in full here for the first time, the man can be seen telling me that he's been to Israel twice and is Jewish himself, all the while insisting Feldman, the well-known Haredi Jewish leader, was faking it. In a second video, he is again seen giving the group of Jews the middle finger, this time dancing and shaking his backside at them.
A Plus called the phone number listed for Schlossberg's law firm several times to confirm that he was the man who we filmed at the Sarsour protest and that was filmed at Fresh Kitchen, but the line went to his voicemail almost immediately each time. A message left on his voicemail has not been returned.
In the Fresh Kitchen video, the man can be heard threatening to call Immigration and Customs Enforcement (ICE) on people because they were speaking Spanish to each other. And notably, the restaurant is next door to Schlossberg's law office.
As a reporter, I am tasked with engaging people in situations like this to try to better understand the story that is unfolding in front of me. But for most Americans, it may be less clear on how to effectively respond to this sort of virulent, racist outburst.
With incidents like this being reported more and more across the country, we reached out to American Friends Service Committee (AFSC), which offers bystander intervention training for people who witness racism.
In an interview with A Plus, Lucy Duncan, who runs webinars and training sessions on bystander intervention for AFSC, explained the best way to handle situations like the one that arose in Fresh Kitchen.
"The important thing is to always focus on the person that's being harassed," she explained. "In an incident like that, depending on what they are doing, I'd try and make eye contact with them so they have some idea that they are being supported."
If Duncan were at the Manhattan restaurant, she said she probably would have reminded the man that most people who live here have come from someplace else, and they have a right to speak any way that they choose. In similar incidents, she said, it's good to focus on staying calm and being sure the person being harassed knows they have support. Keeping your voice at a certain level is important, as well as making eye contact with other people who are there to see if they will join you in intervening.
"A real guideline that we have is don't call the police," Duncan said. "That could make it a lot less safe for the person that's being harassed."
In a follow-up, Duncan explained that often times people who are victims in these incidents — people of color, immigrants, and members of the LGBTQ+ community — tend to have negative experiences with law enforcement as well. The one exception she offered to this guideline is if the person actually asks someone to call the police on their behalf. Otherwise, she suggests coalescing with the other people who are around to make the harasser feel outnumbered. Get between them if you can and it feels safe, and do your best to stay calm and focused.
"It's really important that people speak up and don't do nothing," Duncan said.