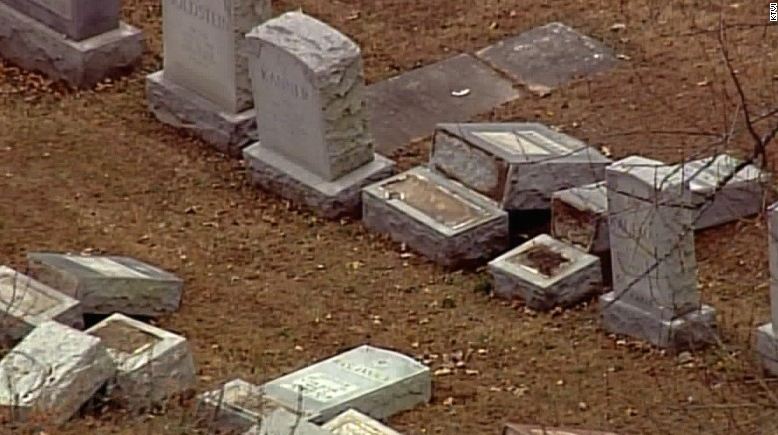 It's a real
Cemetery Kristalnatch
out there!

Jewish tombs broken into and vandalized by "Trump supporters" --
reported as fact by the fake news with absolutely no evidence.
Do you believe them? I don't.
Look up "
Juan Thompson
" to see how Jewish frauds play out in bomb threats to Jewish Community Centers.
I expect in this case, a punk Jewish boy carefully pushed over all these headstones just so the Jewish press could rub Christian noses in the ground once again.
Heh, Jewish intimidation works!
The President responded
The Vice-President responded
The Attorney General responded
All 100 United States Senators responded.

We know who wags the tail in this country.
---
America,
STOP BEING AN ANTISEMITE!!!

---
If America stands united in condemning hate and evil in all its forms, then why were Jewish groups twisting Trump's arms for weeks leading up to the speech, even calling him an antisemite for not immediately putting Jews First, instead of having the audacity of first putting America First?
No the message is loud and clear here.
Our President did put Jews First once again.
Jews are united as a Chosen People, privileged by God himself, and God Damm it America, "STOP BEING AN ANTISEMITE!!!"
Jews are the real masters of
identity politics
and they have always identified America as "potentially" evil.
All Germans are grouped for the rest of Jewish-written history this way, and it appears Jews now also want to group all of America the exact same way.
Not as individuals, like the black Muslim Juan Thompson, who was just caught calling in bomb threats against Jewish communist centers.
Not as individuals, like the Jewish kid Jared Lee Loughner, who shot the Jewish Gabrielle Giffords, a member of his synagogue.
Yes, the message is pervasive, it is not black Muslims or Jewish boys with a screw loose, it is "All Americans united in evil against Jews -- white devout Christians more so."
Jews want us to hate them. It is clear from their history: for Jews to stand united, Jews need others to hate them and treat them as "one identity". Jews both condemn antisemitism and at the same time, create it in order to unify themselves as a pitied victim.
Playing the victim is as natural to a Jew as a Possum playing dead.
---
Just for Jews
Senate agrees 100%

---
As more Jewish facilities get threats, all 100 senators ask Trump administration for 'swift action'

For totally ungrounded, unfounded, irrational, conspiracy-theory-based, tin-foil-hat fear of another 6 million Jew Genocide, all 100 US Senators signed a letter demanding "swift action" against these victimless crimes.
We will wait until sometime later in the future to see how many of these same Senators demand "swift action" to stop the real, on-going genocide against 60 million Christian babies since Roe v. Wade.
These are politicians who NEVER agree on anything 100%.
I would like to see similar votes on other good causes.
How about these for 100% agreement:
US Senate vote to support our law enforcement against BLM
US Senate vote to support our ICE agents protecting our borders
US Senate vote to support our soldiers from wars Congress does not declare

US Senate vote to support Catholic cemeteries, same a Jewish cemeteries
US Senate vote to support Protestant church burnings, same as JCCs.

My favorite: US Senate vote that their State cannot be kicked out of voting in the Senate against their will because Article 5 of the Constitution says you cannot create an Amendment to do such a thing.

Not holding my breath any of these will even be proposed, let alone voted for 100%.
Source:

Updated 2:15 PM ET, Tue February 21, 2017




A view from the ground shows a more somber reality -- scores of granite and marble tombstones, toppled and damaged in a historic Jewish cemetery at a time tensions in the nation's Jewish communities are already high.



A vandal or vandals toppled and damaged more than 100 headstones at the Chesed Shel Emeth Society cemetery in the St. Louis suburb of University City within the past week, police said Monday. Workers spent part of Tuesday using crane trucks to upright some stones and documenting which memorials will need replacing altogether.




The vandalism report came on a day the White House

denounced a spate of recent bomb threats against Jewish Community Centers

across the country, including 11 threats reported Monday.

"A lot of people are coming out (to the cemetery) -- they're just interested to see, 'Was their loved one's monument affected by this?' " Phillip Weiss, owner of a monument company helping the cemetery lift the downed stones, told

CNN affiliate KTVI

on Tuesday morning.

Police didn't release further details about when the vandalism happened at the cemetery, a burial ground since the late 1800s. But they said officers first responded to a report about the damage about 8:30 a.m. Monday.




Officials at the fenced and gated cemetery believe it happened over the weekend; it was closed between late Sunday afternoon and Monday morning.



Police said they didn't immediately know who did it, or why. Investigators are reviewing security camera footage in the areas surrounding the cemetery but would not say if they considered the vandalism to be a hate crime, according to KTVI

.

The vandalism left families wondering whether their loved ones' tombstones were affected, what it will take to repair the damage and whether their heritage had anything to do with why it happened.




The vandalism drew dismay from people whose relatives are buried there, including Bravo's Andy Cohen, host of "Watch What Happens Live" and executive producer of The Real Housewives franchise.



Cohen devoted a few moments of Monday night's "Watch What Happens" show to the incident, calling the vandal or vandals the "Jackhole of the Day."




"This is extremely personal for me because my great grandparents and many other of my relatives are buried there in that cemetery," said Cohen, a St. Louis-area native. "I don't have to have a personal connection, though, to know that this is not who we are as Americans, and this certainly should not be where we are heading."



He didn't say whether his relatives' headstones were damaged. On

Facebook

, the cemetery said it aimed to publish the names of the interred whose headstones were damaged by Wednesday morning.


"Many monuments are facing down and we won't be able to read the names and see if there is any damage until we lift the stones. We want to minimize further damage and need to take the proper precautions," a separate Facebook post from the cemetery reads.

Emily Wasserman of Chesterfield, Missouri, told CNN that she learned about the vandalism Monday night as she was browsing Twitter. Her great-grandparents have graves there, but she didn't immediately know whether their tombstones were affected.



She planned on visiting the cemetery to learn more Tuesday or Wednesday.



"People in St. Louis are disheartened by the vandalism," she said. "I grew up in St. Louis but I also went to college here, and many of my former classmates from (Washington University in St. Louis) are speaking out against the vandalism on Facebook and other social media platforms.



"I think that the violence sent a shockwave through the St. Louis Jewish community."



Missouri Gov. Eric Greitens tweeted Monday night that he was "disgusted to hear about the senseless act of desecration at the cemetery in University City."

"We must fight acts of intolerance and hate," the tweet reads.


In a statement posted on Facebook, Greitens called the damage a "cowardly" and "despicable act of what appears to be anti-Semitic vandalism."



Regardless of the motive for the vandalism, the cemetery is sacred ground, said Karen Aroesty of the Anti-Defamation League of St. Louis.



"There's a difference here between intent and impact. The intent may have been one thing, but the impact is huge on the Jewish community," she told

KTVI

. "This is where your loved ones come to be safe in perpetuity."

Aroesty said while St. Louis was not targeted in bomb threats reported at Jewish Community Centers across the country Monday morning, the St. Louis Jewish community received similar

threats last month

.

"The level of tension in the Jewish community is pretty high," she told the TV station.



The land where the cemetery is located was purchased in 1893 by a group of Jewish immigrants from Russia.



Bomb threats have also recently plagued Jewish groups.



From the start of the year through Monday, 69 bomb threats have been made to 54 Jewish centers in the United States and Canada, according to the JCC Association of North America.



No bombs were found, and no one was injured in connection with the threats, according to the organization, which is working with law enforcement and the FBI to investigate the calls.