I thought of writing this article as titled, yet a quick internet search shows I am beaten to the task, and better done at that.
Hats off to
www.thereligionofpeace.com
Mohammad killed in the name of Allah.
Mohhamad stole, raped, and enslaved in the name of Allah.
Is this what Jesus would do in the name of God?
Not even liberals and Jews would say that, as these non-believers invoke the name of Jesus Christ to say Jesus would:
"Feed and clothe the poor"...

...With Caesar's money,

"Not throw the first stone" ...

...even if the person defiantly refuses to repent of their sin.
"Turn the other cheek" ...
...Not in forgiveness of the sins of others, but in acceptance of sin
"Love your neighbor" ...
..No matter whom the your government imports from Muslim countries to be your neighbors of hate

With Mohammad, as with Jesus, it matters not what liberal interpretation can be placed on Mohammad. It only matters what Mohamed actually said and done in his life.
Again, thanks to the religionofpeace website, you should cry at what Mohammad really did to poor innocents of his day, and the standard he set for his religion of beastly criminals.
And what Muslims do today in his name.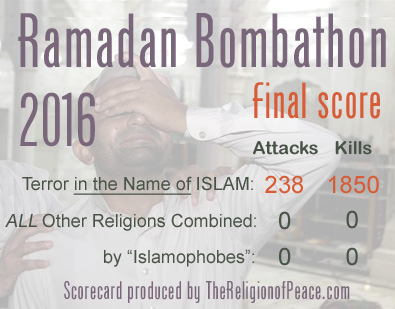 The Religion of Peace recently distinguished itself by

Islamic Terrorists...
...killed twice as many people in one month (
5000
) in November, 2014)
...than were killed in in 350 years of Inquisition (
2000-3000
).
...murder more people everyday
...than the KKK has in the last 70 years (
26
since 1945).
...killed more civilians in two hours on September 11th (
2977
)
...than in the 26 years of sectarian conflict in Northern Ireland (
2236
).
...massacred more Iraqis on a single day in June, 2014 (
1566
)
...than the number of criminals executed by America in the last 40 years (
1423
).
...slaughter more people everyday
...than were killed during the entire Salem Witch Trials (
12
).
What Would Muhammad Do...?